The Transfer Graph
---
We wanted to know how staff members were transferred within the system.
If, for example, a religious brother was found to be abusing a child, what happened to that brother? In most cases, abusers were not sacked. They were sent to another school to abuse again.
As you'll see from our graphic, we traced 86 individuals and their movements in the residential system.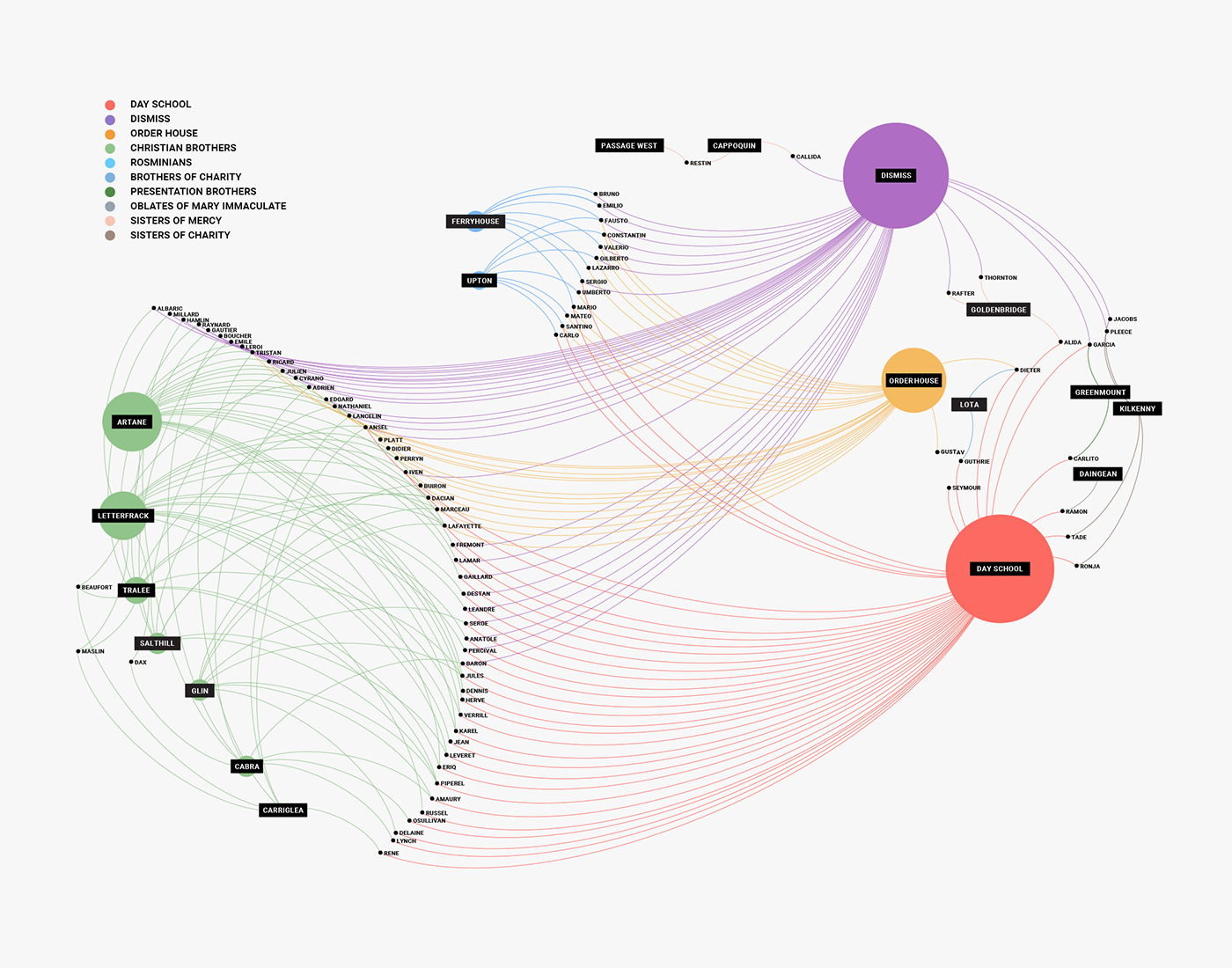 View the Transfer Graph as a PDF.

Each of the small nodes on this image represents a staff member in the system.
The larger nodes represent the locations the staff were transferred between: from residential to day schools, to the order houses, to the option to dismiss. The larger the node, the more transfers in and out of that institution.
The Christian Brothers controlled the largest schools in the system. And, as you can see, they also transferred the highest number of abusive staff members.

What's wrong with this image?
There should be no criss-crossing lines. If a staff member was found abusing a child, then that person should have been automatically Dismissed or sent to an Order House. But they weren't.

The criss-crossing lines demonstrate that each staff member recorded here worked at more than one school: they were moved to avoid scandal, or to maintain staffing levels.

The option to move religious staff to an Order House, where they would have no contact with children, was not the most frequently used option - in fact, it was much more frequent that the abuser was moved to a Day School.

We look at this image and we know: They were not moved to stop abuse.
And as a result abuse was spread across the entire system.

Resources
The Ferns Report (2005) was an official Irish government inquiry into the allegations of clerical sexual abuse in the Roman Catholic Diocese of Ferns in County Wexford, Ireland.
Download
The official digital record of the Child Abuse Commission, published 2009 (commonly known as the Ryan Report)

View